Forum rules
Prosimy, abyście w tym dziale starali się zamieszczać prace i dyskusje na temat
gotowych
modeli. Jeśli macie fotki WIP (tzn. z przebiegu prac), to zamieśćcie je w
stosownym dziale
i ewentualnie podajcie link do takiego tematu w poście z gotową pracą.
A mi najbardziej dynioglowy sie podoba
miniatures painted:
2011 - 83, 2012 - 38, 2013 - 45, 2014 - 56, 2015 - 95, 2016 - 106, 2017 - 22
Normalnie wzruszyłem się do łez widząc pomalowaną figurkę dyniaka mojego autorstwa. Tym bardziej że jak do tej pory to jedyna figurka przeze mnie wyrzeźbiona.
Wszystkie trzy figsy bardzo ładnie pomalowane. Nie wiem czy to celowe działanie, ale także są także spójne kolorystycznie.
Dzięki
JerzyK, już długo się zbierałem, żeby go pomalować. Kiedyś miałem plan, żeby zrobić pole i posadzić pełno dyń wokół, ale ostatecznie pozostałem przy pojedynczym modelu.
P.S. Mnóstwo radości i wspomnień z CofC podczas malowania tej figurki miałem
The Better Choice

Posts: 17415
Joined: 21 Jun 2005, o 17:41
Location: Silesia, Poland
Contact:
jeszcze 2 i sylwester!
Nameless Painter Blog
==================================================
Hej!
Kolejny model, listopadowy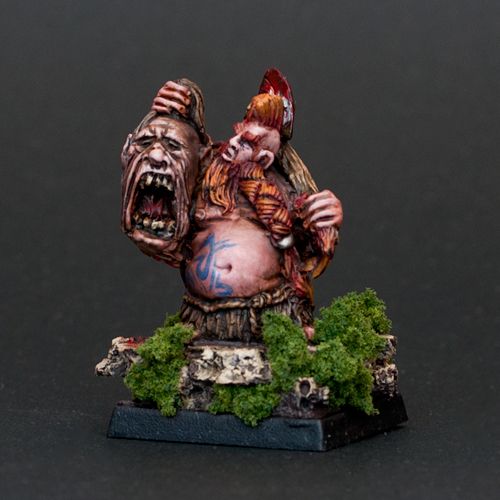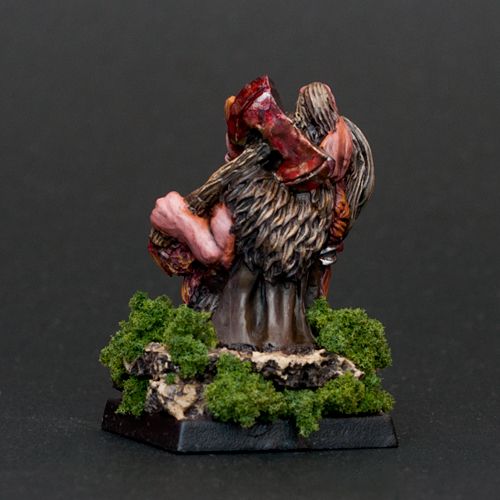 Posts: 1078
Joined: 18 Apr 2009, o 18:15
Location: Żory/Katowice, Silesia, Poland
Nieodmiennie podoba mi się twój styl malowania. Krasnolud wygląda fajnie. Dobra jest ta dziara na brzuchu
Tylko czemu on jest taki czysty, skoro topór wygląda jakby wiosłował nim w rzece krwi?
Podstawka podoba mi się trochę mniej. To korek tak?
Dzięki za dobre słowo.
Co do krwi - starałem się nie przesadzić, więc ty;ko szyja jest we krwi, podstawka i topór.
Na podstawce korek, a dokładnie korkowa podkładka z Tesco. Kupisz jedną wielką i sobie skubiesz
Ładne malowanie, szczególnie podoba mi się cieniowanie skóry.
The Better Choice

Posts: 17415
Joined: 21 Jun 2005, o 17:41
Location: Silesia, Poland
Contact:
Jeszcze 1 i Sylwester! :p
Nameless Painter Blog
==================================================