Tza'uzkull
Tza'uzkull is the herald of kharnath and rising in favour in the eyes of his god. He is the opener of gates the scourge of Ernheim. In the great war against chaos he was the icon bearer of Skarbrant the exiled one. He has come to Talabheim to destroy the great fortress city of middenheim and corrupt it's great flume and deticate it to Khornath the lord of Blood and Skulls.
Tza'uzkull is clad in the brassen armour of Khorne and where ever he goes his lesser bretheren follow.
The unborn
The unborn are a pack of bloodletters whom follow Tza'uzkull everywhere they are requered to. They wield glaives and fight even harder when their leader is around. From tiem to time one of their numbers gain enough power to step above the rank and file and change into a Herald of Kharnath.
The unborn and Tza'uzkull usualy are summond by cultists using the bodies of the freshly slain and the blood of the living. It where they who where at the fore fron in teh siege of Praag and it was also them who slaughterd every dwarf in the mighty hold of Khalek'Unklak. The name of Tza'uzkull and the unborn is recorded many times in the book of gruges and the archives of other races.
This army is for a campain which is run in my FLGS Tza'uzkull is the genral of my army and a hero of renown and the unborn are a unit of renown. The army will be a mono-god Khorne army. Every two weeks i have to add 10 or 150 points to the army depending if i win or lose i am aiming to get the following things painted by the end of the campain:
2 units of 40 bloodletters
3 Bloodcrushers
2 herald of Khorne
1 deamon prince of khorne
and maybe some furies
Here are some pictures of what i have painted up until now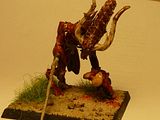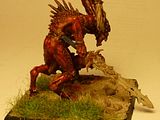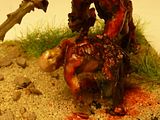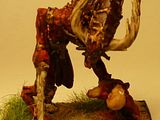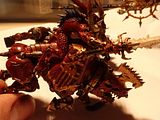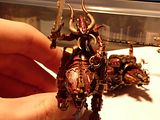 I apologise for teh poor quality of the pictures i will labour to get better ones next time you can enlargen them by clicking on them.