You're welcome
Actually after a short time spent painting with one method, the other becomes counter-intuitive.
I mean: I used to paint the traditional way as it was the way I learned in the earlier years and it was the common way of painting. Then Illusionrip returned from some painting classes or something and explained the concepts of zenithal lighting to me.
Initially it was difficult for me to grasp, and I kept highlighting wrong parts (still thinking in the way I did in all the previous years). On the other hand Illusionrip said that once you learn it, the other way just feels wrong. And you know, he was right. Soon I started thinking in the new way, and whenever asked by people for suggestions I couldn't resise the feeling that many of them simply highlight the wrong parts.
Zenithal (or generally speaking: directional) lighting is at least as easy to understand as the 'old way' of highlighting, and probably even more intuitive to new painters - unless they were already taught the other way. Why? Because it's what they see in the world around them.
As pointed out by Demi_morgana - one of the easy 'helpers' is to apply dark primer and then another coat of white primer from the direction from which light is coming. Another way is to keep the miniature under a strong source of light - like directly under a lamp - and take a photo of the model. Then you can either print it or keep it on your screen for reference of the way light is cast on the miniature.
But with a little practice you learn not to need such help anymore.
And it's not a new concept: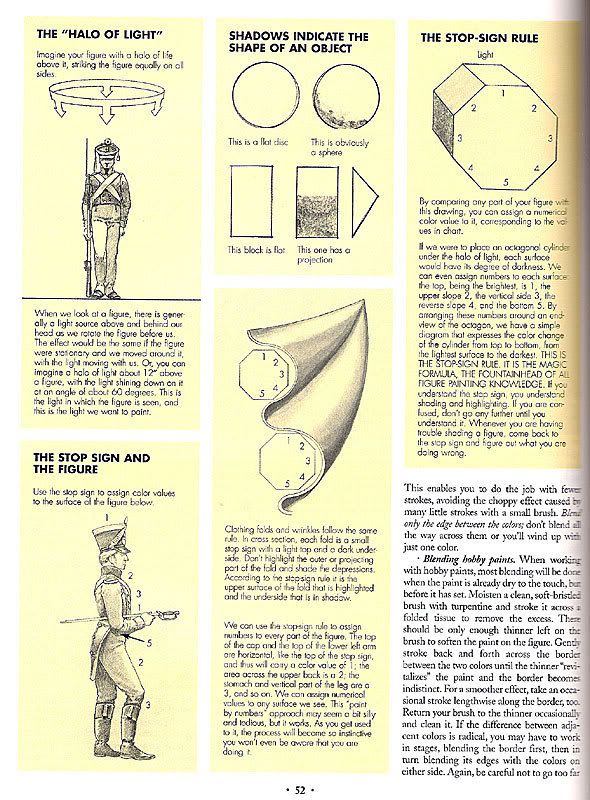 Click to see full-sized image
Ah, don't take this discussion as a not-so-subtle way to persuade you to use directional lighting. That's just a little of our traditional off-topic talking, to which we're used here at this forum
Ah - as for your question: if you want to go the 'traditional' way, you placed your highlights rather well. It's hard to suggest anything else, as you seem to be getting it right, unless you want to go for directional lighting - which would make it look more like this:
Click to see full-sized image